Portland is known by many as "Stumptown", but we're far more proud of our city's designation as a Tree City by the Arbor Day Foundation since 1970.
Arbor Day? How About a Month?!
The Tree City Program is a framework that guides cities in growing and maintaining tree cover, and to be recognized as such participation in Arbor Day activities is required.
In this, the state of Oregon takes things to the next level! In order to contain all of the tree-related events in the state, we need an entire month. So, every year beginning in 2020 the State Forester has proclaimed April as Arbor Month.
A Very Good Month for Planting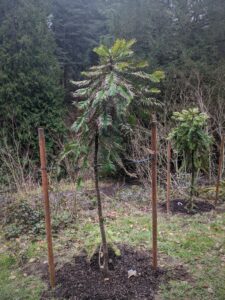 Arbor Day is typically celebrated by planting trees, and according to our Curator Martin Nicholson, April is often a very good month for planting in the PNW, assuming the soil temperatures are rising and there is enough rainfall (climate change has made April unpredictable to say the least!).
In general Martin says he's a big fan of spring planting, at least for flowering trees, because they go through a full seasonal cycle in the ground before the cold winter. Newly planted trees also require 5 to 10 gallons of water a week, so getting them in the ground before the dry season is critical. That means planting new trees in the Arboretum occurs in a very tight window.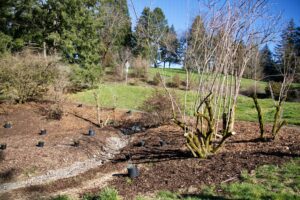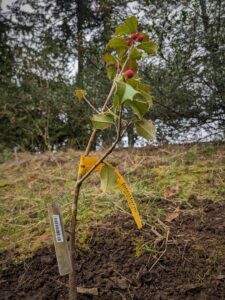 Doing the Work

Parks staffer, Brett Rousseau makes Martin's planting vision possible, and has planted 25 trees this month already, including 17 test hollies from the Holly Society of America.
There are many hollies native to the east coast of North America, but the most commonly planted holly on the west coast is the invasive English holly. By testing North American species at the Arboretum, we may be able to determine alternatives to English Holly that grow well in our climate.
Thank you Brett!
Join Us!
Like Brett, all staff are hard at work with spring tasks including planting, but we couldn't do it all without some help from our friends! Join us this Arbor Month (or any time!) for our stewardship events, and celebrate your love for trees by lending a limb!