Exploring Hoyt Arboretum's 189 acres on our 12 miles of trail isn't just a hike – it's a worldwide tour of trees from around the globe!
The Arboretum is open year-round for self-guided hikes, aided by placards indicating tree species. Interpretive signs along your walk offer more information about the various collections. Pick up a free map in the Visitor Center to find suggested routes or download the map online.
Five Oaks Tour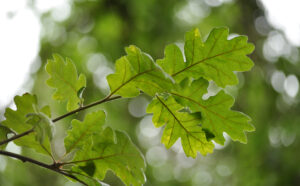 White oaks are important hardwood trees that provide food and habitat for countless animals (including humans) all over the Northern Hemisphere. Take a self-guided tour of 5 white oak species from across North America at Hoyt Arboretum.
Looking for a guided experience at Hoyt Arboretum? Learn more about our programs.