Once a year, professional arborists from around Portland and beyond gather up their tools and come to Hoyt for the annual Arborists in the Arboretum.
Lending their experience and expertise in the careful care of our collections, we are thrilled to host this boisterous group of colleagues and are amazed at the skill and accuracy with which they do their work. While this event is closed to the public, feel free to stop by and watch them work – from a safe distance – in the collections. They will be visiting us again on Saturday, September 7, 2019 from 8am until 12pm.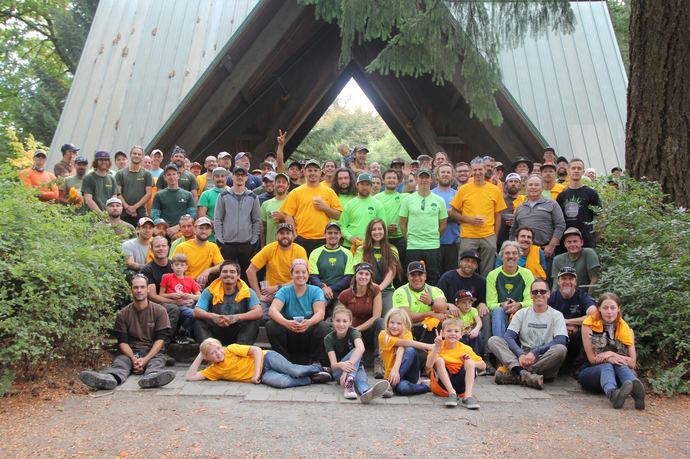 Thank you to everyone who helped make the 31st annual Arborists in the Arboretum a success!
On Saturday, September 8, 2018, Hoyt Arboretum Friends hosted Arborists in the Arboretum, where professional arborists from the Portland metro area and beyond volunteer their time and expertise to care for Hoyt Arboretum's trees. This year, 98 arborists representing 36 companies volunteered for Arborists in the Arboretum. We want to express our sincere thanks to the generous arborists who keep Hoyt Arboretum growing year after year!
See photos from Arborists in the Arboretum 2018. 
Thank you to our event sponsors:
Doug Fir
Bartlett Tree Experts
General Tree Service
Oregon Tree Care
Teragan & Associates, Inc. 
Elm
Overlook Tree Preservation 
Food
Sizzle Pie
Beer
Buoy Brewing
Treecology   
Participating Companies / Organizations:
AAA Tree Service
AKS Engineering & Forestry
Arbor Care Inc
Arborist Robert Bundy LLC
Arborscape Ltd. Inc.
Asplundh
Bartlett Tree Experts
Canadensis Tree
Davey Tree
Emerald Tree
Emergent Tree Works
Ethos Tree Preservation
For the Love of Trees
Foster Trees
Foxy Tree Care
Fruitful Tree Care
General Tree Service
Hedgehog Tree Care
Honl Tree Care
Integrity Tree Care
Madrone Modern
Marble Tree Service
Monkey Puzzle Tree Care
Northridge Tree
Oregon Tree Care
Overlook Tree Preservation
PDX Tree Services, Inc.
Plogs Landscape Design
Roots and Shoots Trees
Samsara Tree Care
Tree Masters
Tree People LLC
Tree Style Arbor Care LLC
Treecology
Urban Forest Pro
Urban Timber