May is Asian American and Pacific Islander (AAPI) Heritage month, and our series of cultural botanical connections continues with a set of resources for you to connect with, learn from, and/or support!
This is a living document that's expected to grow and change with time. As always, feel free to share resources that can continue to be added to this directory at any time of year.
Past Events
The North American Japanese Garden Association's "Innovation by Adaption II" webinar included a discussion with Portland Japanese Garden's Chief Curator  Sadafumi Uchiyama, about the extensive legacy of "Japan-trained garden craftsmen" who shape the garden, and you can watch it here: A History of Portland Japanese Garden
(Uchiyama is also the Director of the International Japanese Garden Training Center, which you can learn more about here.)
Research, Articles, and Exhibitions
An oral history project submitted to the Library of Congress by Katie Reuther: Finding Roots: Asian American Farmers in Contemporary America
Cathy Erway's report in Eater on farming as cultural identity, food sovereignty, and land stewardship: "Bok Choy isn't Exotic"
Reviving the memory of Ah Bing, the ubiquitous Bing cherry's namesake: "The Tragic Roots of America's Favorite Cherry"
People, Places, and Platforms to Support
A collaborative platform and community of Asian and Pacific Islanders in the outdoors with chapters in five states, including right here in Oregon! : Outdoor Asian
A farm that's "reclaiming [intersectional] Asian-American identities on the land" through with meals, events, and more: Radical Family Farms (@radicalfamilyfarms on Instagram)
The work of Chinese artisans from Suzhou, which is now known as one of "the most authentic Chinese gardens outside of China.": Lan Su Chinese Garden
Specialist in heirloom crops, creator of delicious breads, and Chair of the Asian American Farmers Alliance: Farmer Mai
Oregon's first museum about Chinese history and art is dedicated to exhibiting the work of contemporary Asian American artists, storytelling about the immigrant experience, and various public programs including Portland's annual Lunar New Year celebration: Portland Chinatown Museum
About the Author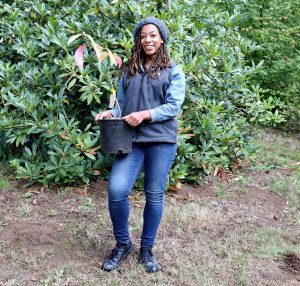 Mareshah "MJ" Jackson is a graduate student in Strategic Communication at the University of Oregon, and the Communication & Development Coordinator at Hoyt Arboretum. When she's not recovering from all-nighters, you can find her running through Portland, using iNaturalist on trails, and window shopping.