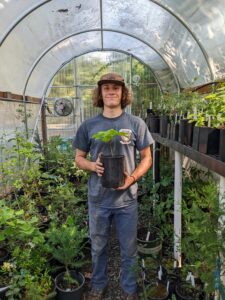 Survey says: Noah was a great intern!
A student at OSU in the Natural Resources Department, Noah Clark spent this summer (2022)  interning for Hoyt Arboretum under our curator Martin Nicholson's guidance.
Assigned important survey work at the Arboretum, he ensured the proper documentation our tree collections. As his time with us this summer came to a close, he sat down with me to talk (and teach) about what he did–and it had a lot to do with marker posts!
A (very) brief history of marker posts
In the 1950's marker posts were installed throughout the Arboretum for the purposes of linking a group of trees within its radius to a hyper-accurate location. Data linked to these marker posts includes things like verified identifications, diameter at breast height (DBH), height measurements, and health and care information.
But, in the 70+ years since they were installed, the landscape has changed a bit, making locating marker posts a challenge that Noah described as "a bit of a wild goose chase". 
Just that day he had to probe the ground through very tall grass to find the location of a marker post. In this case and many others he needed to "unearth", clean up, and surround marker posts with a barrier of rocks and gravel to make them easier to locate in the future.
His work this summer had a lot to do with trees too, of course, and once marker posts were located, he checked current records of the associated trees. Made sure verified identifications were correct, that labels were up-to-date, evaluated care needs like pruning, and performed and entered new measurements including DBH and total height.
Geometry IS useful!
During his internship Noah got to use some pretty fancy equipment to measure tree heights. The Digital Rangefinder uses lasers to create a right triangle- the tree and the ground forming a 90 degree angle, and the laser emitted from the device forming the hypotenuse. Apply Pythagorean Theorem, and bingo bango, you (or the machine) can solve for the height of the tree!
At his last staff meeting, he revealed, with a drumroll, that we officially have a new tallest measured tree in the Arboretum! A massive 208 foot Doug-fir, and its neighbor a 204 ft grand fir- the latter of which is a candidate for the Oregon Champion Tree Registry!
For the love of trees
Born and raised in Portland, Hoyt Arboretum was an important influence in Noah's upbringing, his first visit at a tiny 2 years old. From a family of tree-lovers, the day we sat down to chat, he had just sent his mother on her way, hiking the full 30 mile Wildwood Trail!
When asked what his favorite trail at the Arboretum is, the internal struggle was evident, as he called himself out for being "cliche", revealing his answer: Redwood Trail. His exact words were that redwoods are "so dope" and that "you can't hardly kill 'em"–interesting arborist's perspective, indeed. 
When asked what his favorite tree was it was like I asked him to choose a favorite child as he second guessed every answer: ponderosa pine, pacific madrone, and Oregon white oak–all amazing picks.

The future of forest stewardship
Beyond surveying and marker posts, Noah's brief tenure at Hoyt involved shadowing visiting researchers, assisting our horticulturalist Allison with volunteer field workers, performing trail and tree maintenance, working in the nursery, and simply being an amazing helper with a strong work ethic. 
He feels the most valuable thing about this experience was learning from Martin (no surprise there!) about how the Arboretum is run as a whole– the big picture challenges and the organization that is required in caring for such a diverse collection of trees. The amount of planning and risk assessment needed to plan the layout of plantings along the trails, keeping visitor experience in mind, and the importance of this place as a repository of genetic diversity were new perspectives.
Alongside his duties as an intern for Hoyt Arboretum, Noah spent the summer working as an arborist for Mossy Tree Care, accumulating quite a wealth of real-world experience to help him accomplish his post-college goals. Right now he's particularly interested in restoration, conservation, and multi-purpose forestry.  
When he returns to school he is looking forward to performing his role as Treasurer of Forest Stewardship Guild and the upcoming NW Innovative Forestry Summit. Noah will complete his schooling in 2025, and we can't wait to see the forest steward he becomes.
We wish him the very best and are filled with gratitude for the work he did here.
More opportunities for young foresters
Noah's internship was paid for by the J. Frank Schmidt Family Foundation, and we covet the opportunity to expand our capacity for bringing more interns into the fold. We have to think like the trees- far into the future, and fostering the next generation of forest stewards is a critical step in the grander scheme of protecting our trees and forests.