Local author and Hoyt Arboretum neighbor Phyllis Reynolds has conducted interviews with each member of Hoyt Arboretum's staff to introduce you to the people who make up Hoyt Arboretum's team. Today, get to know Nina Avila, our new Education Programs Manager. She's only on her second week with the Hoyt Arboretum Friends!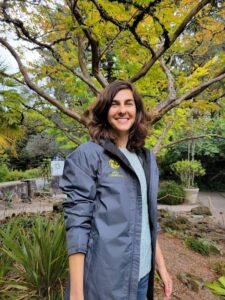 On week number two of her new job at Hoyt Arboretum Nina and I talked on the phone. With a Masters in Education for Sustainability from PSU, Nina is highly qualified for her new job.
She was born near New Haven, CT, and lived there for 14 years.  Her next 14 years were spent in Ohio, where among other things, she graduated from Denison University. Then, she came to Portland to get her MA. Following this degree she married and lived in Phoenix and Denver before returning to Portland three years ago. While in Phoenix she worked at the Desert Botanical Garden managing children and family programs.
The Avilas have a 5-year-old boy, now in preschool while his parents work.
Before coming to the Arboretum Nina worked at the zoo, a job that ended because of COVID—most people were let off. Outside of work and mothering, she runs in her NE Portland neighborhood and has recently taken up print-making (linoleum and spoon pressure), which she has loved ever since a print-making class at Denison.
What would she change at the arboretum if she had a magic wand? More space for education and outdoor learning. In other words, the Visitors Center is too small.
About the Author
Phyllis is a Portland native who has written two books about Portland trees and a history of Hoyt Arboretum. She has a PhD in Clinical Psychology.