Red, yellow, orange, purple: fall colors are bursting out all over at Hoyt Arboretum!  With over 2,300 different species of trees, there's quite a wide variety of leaves to turn a plethora of different colors.
Every fall, the most common question we hear in the Visitor Center is "when will the leaves reach their peak?". Many factors including precipitation and temperature contribute to when that happens, so it is hard to answer accurately. In a "typical" year, some leaves start changing in late September, many more through October, and by the start of November things are colorful all over. In some years, however, leaves can turn yellow-brown and fall off overnight.
Fall 2023
This year is a banner year, no question about it, and the leaves are at their peak right now (mid November). Here's what I found on a recent stroll around the Arboretum.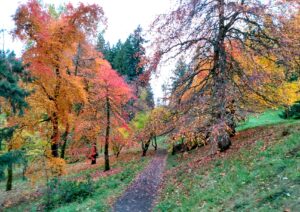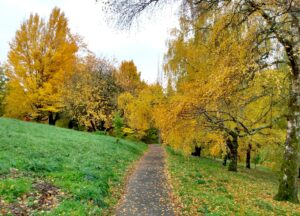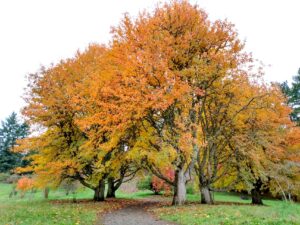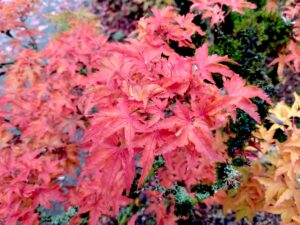 The Maple Trail proved particularly colorful. In addition to many-hued maples, the ashes and birches leant bright yellows. Heading up the Hawthorn Trail, there were even more leaves all-a-color, and from the Viewpoint at the top of the hill, there was a panoramic view of the Arboretum and the surrounding hills.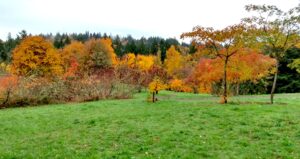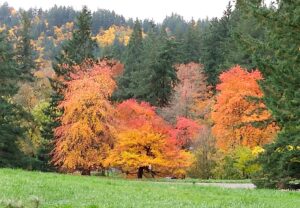 The Magnolia Trail was also lovely: sweetgums and beeches provide a palette of colors.  And, the ginkgos along Bristlecone Pine Trail and the Visitor Center Courtyard look like buttery sunshine.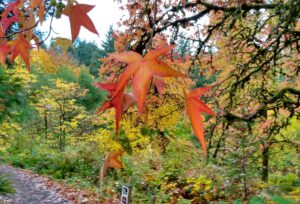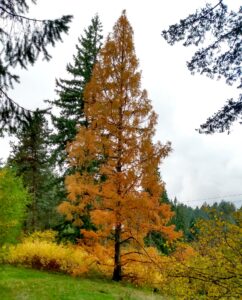 Then, there are deciduous conifers: the dawn redwoods are looking spectacular, all coppery before their needles fall off.  
Even when the leaves fall off their trees, the effect can still be quite striking.  It is one thing to walk along with colorful leaves overhead, and quite another to walk on a carpet of color, too.
Come on up to Hoyt Arboretum while the colors blaze in the trees. Stop by the Visitor Center, and our volunteers or staff will be glad to help you find the right trail for your experience.
---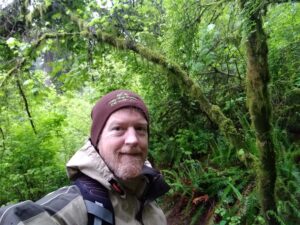 About the Author
Greg Hill is a writer and naturalist with decades of visitor experience at Hoyt Arboretum. An avid hiker, he spent 10 years as a Northwest Mountaineer and Trail Guide. Greg volunteered for a year at the Visitor Center before becoming a Visitor Information Specialist for Hoyt Arboretum Friends.