Third grade is one of my favorite times in childhood. Kids this age tend to be both capable, and expressive. They aren't yet too cool for showing joy, and yet they can tie their shoes and put on their coats without assistance. They can walk reasonable distances and understand big ideas. They are in the "sweet spot" for outdoor education.
Recently I had the pleasure of leading a group of third graders from Hillsboro School District. Most of them were Spanish speakers and did not have a lot of background knowledge of forests and trees. When we set out on the Overlook Trail, one of our first stops was at the Big Leaf Maple. After talking about the size and color of the leaves, and some human uses for the wood, and doing my best to remember the Spanish words for each of these things, I picked up half of a samara from the ground and tossed it into the air. The children "oohed and ahhed" as the "helicopter seed" twirled to the ground.
Surprisingly, this was the first time that most of them had seen the little winged seed spin and drift through the air. I encouraged each of them to pick up a seed and throw it off the steep bank. We talked about why a tree might design seeds that fly this way and how it might help them disperse, but mostly the kids were just having fun with test flights and wondering why some seeds spun and others didn't. They tossed double and single samaras and wondered aloud why the one with two wings didn't seem to fly as well as the one-sided samaras. The children giggled and tossed seeds for longer than I expected. This was truly entertaining to them. About half way through the field trip I overheard one of the children say to another, "this is actually really fun!". 
Oftentimes children who come to the Arboretum have lots of background knowledge and can talk about everything they know about trees and seeds. Most children have seen a helicopter seed many times before and this simple thing no longer excites them. That was not the case with this group. Just about everything in the forest was new to them, which made being their teacher on this day really fun. Getting to be the person to first introduce a child to helicopter seeds is truly a privilege. Being the witness to the simple joy of throwing a helicopter seed is what I love about working in the Arboretum with kids.
---
About the Author
Hi I'm Amy Maki!
I was born and raised in Portland. I still like to call hazelnuts by their true name, "filberts". I was a biology major at Occidental College in LA before getting my masters in teaching at Lewis and Clark. I have been a teacher for over 20 years, working in schools as a classroom teacher, ELL teacher, PE, and Outdoor Education Specialist.
I have two amazing kids, who are a junior and senior in high school and am savoring my final years with them at home.
I have been a Nature Educator with Hoyt since August of 2022. I adore the people that work in the education department for Hoyt Arboretum Friends. My favorite thing is dressing up for "Wacky Wild Wednesday" with all of the educators.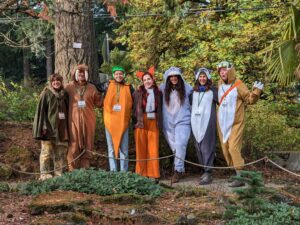 Amy (far right) and the Hoyt Arboretum Friends Education Team, Halloween 2023.