Why I Volunteer 
During the pandemic, I turned to the solace of nature. Socially distanced walks in parks were a regular thing. The misty trails and mystical wonder of Hoyt Arboretum were a source of escape and inspiration, but by the Fall of 2021, as far as I was concerned, the pandemic had been going on long enough and I needed to get out of the house and interact with people again. 
I reached out to Becky who manages the volunteer programs at Hoyt Arboretum to see if I could get involved. There was a need for volunteers at the Visitor Center desk. I was available for the Wednesday afternoon slot, so I thought I'd give it a go.
The Hoyt Arboretum Friends Community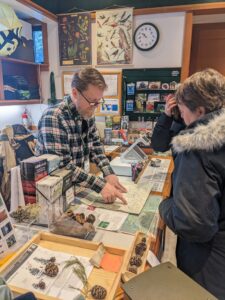 Everyone made me feel immediately welcome and that my time there was appreciated. The first few times I volunteered, I shadowed a more experienced volunteer or staff person to learn what the Visitor Center role was all about.
I loved it. I got to meet people from all over the world, near and far. I got to help visitors figure out what they wanted from their visit to Hoyt Arboretum. I've always loved maps, so it was a natural fit for me to point out the trails and features. I also have a background in the natural sciences, so I was eager to research and answer questions from visitors.
Volunteering in the Visitor Center
Training involved learning about the history, policies, programs, nature, and trails of the Arboretum. There was a packet of materials to study and online resources, but mostly it was learning as I went. Shadowing gave way to being shadowed, and soon I was working shifts by myself. But even when I was scheduled alone for a shift, I was never alone. There is a button on the desk that alerts the staff in the back offices, so if things got busy, or if I didn't know how to find an answer, I could push that button and one of the awesome, amazing, and knowledgeable staff would appear.
Becky told me that I could volunteer as little or as much as I wanted to. I had originally thought that I would only want to volunteer one day a month or so, but once I knew what I was in for, I volunteered weekly.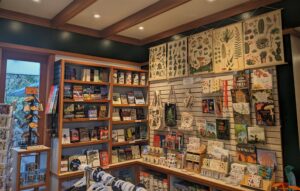 Volunteering at the Visitor Center is more than just helping out visitors with information. The Visitor Center is also a gift shop, or nature store. Sales from the Visitor Center create revenue to support programs and improvements at Hoyt Arboretum. Transactions are completed with a modern touch-screen register, and opportunities to tidy up and restock things are there if you want them.
Visitor Center volunteers represent Hoyt Arboretum and act as a crucial conduit between visitors and Hoyt Arboretum staff. 
Always Learning
There's no doubt that volunteering at the Visitor Center involves answering questions.  Fortunately, volunteers don't have to know all of the answers. There are many resources at the desk, and online for volunteers to consult. The answers to all the common questions are easily found.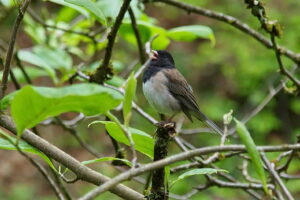 One of the best perks of the job is seeing the Arboretum change throughout the seasons. I take the MAX to the Washington Park station and walk along the trails before every shift. Fall colors, winter fog, blooming witch-hazel, the full-on spring bloom, summer's greenness, and around again. Will it be the juncos or a woodpecker that greet me today?
Being on a mountain in the forest of a world-class arboretum is not too shabby.
The staff and other experienced volunteers are a trove of information. Interacting with anyone around the Visitor Center always yields some new tidbit about trees or local history. You know you are in good company when everyone around you shares the same passion for trees and trails. I have learned so much in my time at the Visitor Center and have met so many interesting people. Every day I am there I learn something new from staff, volunteers, and other visitors.
Surprises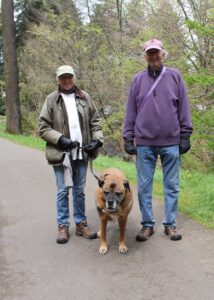 One thing I was most surprised about volunteering in the Visitor Center is the amount of regular visitors. It's amazing how many people visit nearly every day. Especially endearing are Jeffrey, Gillian, and their mastiff Henry Noodle, who only missed stopping by the Visitor Center six days last year. Giving out dog treats was something else that I was surprised to enjoy as part of the role.
After a year of volunteering in the Visitor Center (and also volunteering as a Trail Rover), I accepted the position of Visitor Information Specialist with Hoyt Arboretum Friends, and now I work at the Visitor Center on weekends (Friday through Sunday).
I tripled the time I get to stroll around Hoyt Arboretum and interact with more fun and interesting volunteers and visitors three times as often. How cool is that?
The Perks of Volunteering
Volunteers get to be a part of what makes Hoyt Arboretum special, but there are other perks too. 
As a volunteer, you are eligible for:
Ongoing learning opportunities specifically for Hoyt Arboretum volunteers

A discount in the gift shop

A free

membership

to Hoyt Arboretum Friends which comes with discounted prices on classes, invitations to special events, and more!
Interested in volunteering in the Visitor Center? Email volunteer@hoytarboretum.org for more information.
---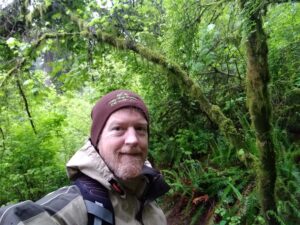 About the Author
Greg Hill is a writer and naturalist with decades of visitor experience at Hoyt Arboretum. An avid hiker, he spent 10 years as a Northwest Mountaineer and Trail Guide. Greg volunteered for a year at the Visitor Center before becoming a Visitor Information Specialist for Hoyt Arboretum Friends.