New Neighbors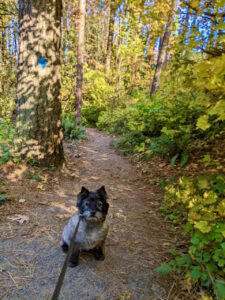 Washington Park neighbors Jennifer and Jeremy Evans take pride in caring for the Arboretum. New to Portland in August of 2021 from New Hampshire, the Evans prioritized living near a park, and boy, did they hit the jackpot!
"We think of the Arboretum as our "backyard" and enjoy walking there almost everyday, usually with our little cairn terrier, Whisky." Jennifer said when we discussed her journey to becoming a HAF member.
Whisky is 10 years old and cute as a button (and he knows it!). 
Loving the Arboretum
Convenience aside it's the changing scenery and varied sights that keep them coming back. When asked what their favorite places in the Arboretum are, Jennifer had an answer for just about any type of day you could think of.
"If it's a clear day, we'll head up to Overlook or hike across to Pittock.  If it's misty we'll head down towards the Redwood Deck and to Redwood, Creek or Bristlecone. Some days we'll just do a long, varied and unpredictable loop – if time permits.  We're always discovering new routes and favorite places."
Clear Trails and Healthy Trees
It's not just the scenery that Jennifer and Jeremy take note of on their walks through the park; they've also seen the hard work that goes into maintaining the trees and trails. This led them to becoming HAF members, knowing their support helps to steward the green space that's become such an important part of their lives.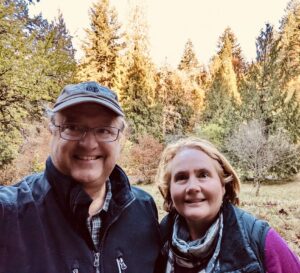 "Being there almost everyday, I see how tirelessly the staff and volunteers work to keep the trails clear and the trees so happy and healthy.  Any donation helps with this upkeep and maintenance for all of us to enjoy."
Jennifer and Jeremy saw first-hand the damage that the April winter storm did to the Arboretum, and made sure to inquire about how we were able to recover. She was pleased to hear about our volunteer stewardship crews arborist partners who helped us dig out of that hole (literally). 
Jennifer and Jeremy provide critical funding to grow our volunteer network, and develop and implement climate-resilient maintenance plans.

Outdoor Education
They've attended member events, but are looking forward to attending adult education programs dealing in tree networks, fungal networks, and forest ecology. On our walk Jennifer said "I'd like to know more about the tree collections. I know I love being around them, but there's so much to learn!". We'd just come across some dawn redwoods on the Bristlecone Pine Trail, which were splendidly orange in their deciduous, coniferous glory. 
Their membership also allows us to expand our education programs, and provides them with a discount on registration.
A Portland City Treasure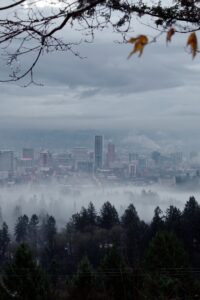 With both kids in college and adventurous spirits, Jennifer and Jeremy explore a lot, and couldn't recommend it more.
Jennifer says, "I would encourage people to visit the Arboretum, explore it, and enjoy being in an expanse of nature so close to the urban areas of Portland.  I believe that anyone who visits will discover how truly special a treasure it is for our city."