Through the Eyes of a Child
New members Travis and Kerry Docktor fell in love with the Arboretum through the eyes of their 2 and 1 year old children at Tree Time! 
Long-time explorers of the outdoors, Travis and Kerry have always appreciated the global tree collection at Hoyt, sharing the Arboretum and Washington Park with visiting friends and family for years. Now, with young children, they've interacted with Hoyt Arboretum in a new way, through our Tree Time! Preschool Walks.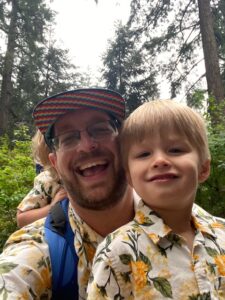 Looking for activities that would connect little Simon and Sebastian with nature, but also with other kids their age, Kerry was drawn to a Tree Time! listing on PDX Parent and suggested Travis give it a go with the kids in tow. Travis took some time to chat with us and reflect on his family's experience with Tree Time!
"I was so glad to have a structured activity to bring the boys to that would encourage wonder and excitement for the outdoors, trees, forests, and nature. Tree Time! is great because the walks are more or less the same every week, but they build upon one another, and I'm definitely noticing the lessons sinking in over time."
A self-proclaimed "plant-nut", Travis loves the Bamboo Forest, especially now that his 2 year old is recognizing the plant, pointing it out, and naming it "bamboo!" with excitement, "they also have gotten really excited about mole holes to the point where they recognize them and know they'll get to dig in" he shared.
But, what Travis has really noticed is that the kids just like free-form exploring. Sometimes extending Tree Time! into 2-hour-long walks off the beaten path up to the Redwood Deck- which they LOVE! Of course, a 2 hour walk with such little guys is quite an accomplishment, but Travis is definitely up to the challenge stating "Ah, we take our time and I always bring plenty of snacks."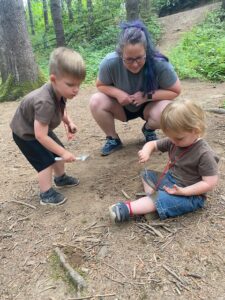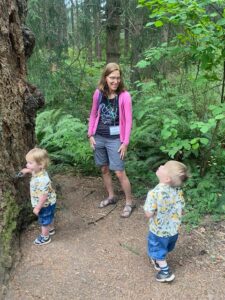 Kerry Docktor enjoys digging in the Fairy Forest with sons Simon and Sebastian (left)
Tree Time! Walk leader Chris shows Simon and Sebastian the lightning tree (right).
Member Story
When asked why the family decided to become HAF members this year Travis said "Oh, definitely Tree Time! To support the program but also glad to get member perks like lower price on admission. Mostly, though, it's about supporting a good cause."
He expanded upon this, sharing that "as a person from North Dakota, trees and forests are still a novelty even 7 years after moving to the PNW. There is nowhere else with the diversity of plants and trees that the Arboretum has, and if you've lived here for a long time it is easy to take it for granted."
In 2022 more than 550 families attended Tree Time! Programs like these are funded by Hoyt Arboretum Friend's member support, which Travis has found to be an invaluable resource for his family, but he'd say to anyone considering becoming a member: "the Arboretum is a wonderful place to enjoy now, but don't assume that things that are awesome will always be there."
Learn more about our Tree Time! Preschool Walks