Eric's Hoyt Arboretum Story
There are many ways to connect with Hoyt Arboretum. From taking a walk to pulling weeds in the rain, every person in our community has a different Hoyt Arboretum story. For Eric Mitchell, his Hoyt Arboretum story started as a visitor, turned to Tuesday Crew-member, turned to Nature Educator, turned to Board Member.
Eric moved to Portland after finishing his undergrad in Environmental Biology, and found Hoyt Arboretum as a botanical paradise right away.
"The Arboretum quickly became special to me, not only as a place to find unique plants and natural beauty, but a place where I could go to think, clear my mind, or simply find peace," he said, recounting a time when he was new to the city.
Applying Unique Experiences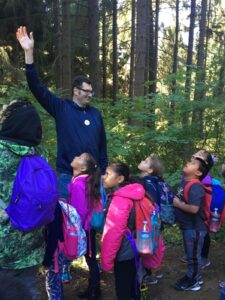 While his later studies and career moved away from the environmental sciences, he kept his passion for botany and the outdoors alive at the Arboretum. Eric joined Tuesday Crew working stewardship projects under curator Martin Nicholson, but his knowledge and skills were put to their best use when he moved into a volunteer role as a Nature Educator, leading field trips with elementary students in 2016.
"Leading field trips is incredibly rewarding and introducing Hoyt Arboretum to a new generation is a true privilege. Some have obviously spent quality time outdoors, while others see the park as a wilderness, but they're all typically joyful, very curious, and happy to be at the Arboretum."
Field Trip Fun
I had the privilege of following Eric on the last field trip of the fall season, and it is clear that he inspires that joy and curiosity. On this particular field trip, Eric's group of 5th graders enjoyed participating in dance offs, Lady Gaga singalongs, and laughing at dad jokes, but more importantly, the kids genuinely had fun learning about epiphytes, seed vs pollen cones, how trees that survive lightning seal off damaged bark, that there are deciduous conifers, and SO much more!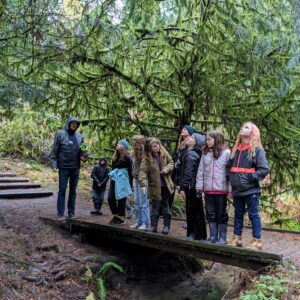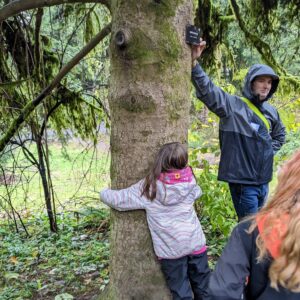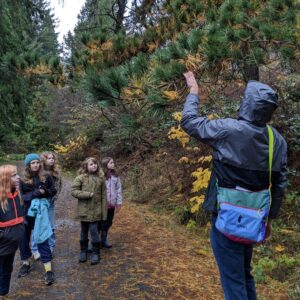 Recounting one of his favorite field trip moments from over the years, Eric said, "I was with a group of unusually loud and vocal fourth graders. They were engaged in learning but made the most noise of any group I've led through the park. Near the end we were walking on Creek [Trail] when a pair of owls flew over us and perched in a tree about 20 feet away. The group was suddenly silent and we observed the owls for almost 10 minutes. This rowdy group didn't make a noise while in the owls' presence."
Nature Educator and Board Member
Since beginning his journey as a nature educator Eric has observed our field trip program through many phases from drastically increasing popularity between 2016 and 2019, to a complete halt in 2020 and 2021, and coming back in 2022 with new and improved curricula.
About this process he said, "I'm so excited with how the program continues to evolve. The field trip curriculum continues to improve with teacher feedback, which then seems to improve engagement and drive more thoughtful feedback."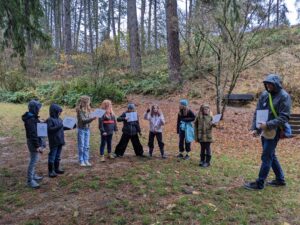 And he's played a pivotal role in how our many programs, educational or otherwise, have progressed as Vice Chair on our Board of Directors. About his experience on the board he says, "I've really enjoyed working to update HAF's strategic plan this summer and envisioning how the Arboretum can continue to evolve as a living classroom while welcoming visitors that may not have known about the many resources the park provides."
Finding Peace at the Arboretum
Eric can attest to the mental, spiritual, and physical enrichment that green outdoor spaces like Hoyt Arboretum can offer. He takes frequent solo walks, has favorite spots to visit, and has developed relationships with specific trees.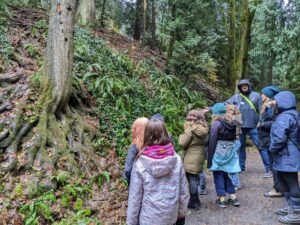 "My long time favorite tree is/was the 'root tree' on the creek trail. I still stop to admire it even though it is now a snag. I remember helping Tuesday Crew clear debris from a late December storm when an adjacent tree fell into it 4 or 5 years ago. The tree survived for a few more years even though it lost a lot of limbs." He also gave honorable mention to the bigleaf maple near Stevens Pavilion and any western redcedar.
The Arboretum is the Best Classroom!
Father to a sixth grader, Eric is truly a nature educator at heart, "A few years ago a large tree fell near White Pine Trail. My son sarcastically told me it was his favorite tree in the park because of the way it made an asymmetric W when it fell on the uneven terrain. It actually has become his favorite tree and we stop each time he is in the park to observe its slow decay."
After reflecting on this for a moment he said, "It really is true what a local teacher told me a few years back. 'You cannot replicate a visit to the Hoyt Arboretum by simply talking about trees or ecology in a classroom'."
But with Eric as your guide, the Arboretum is a classroom. Who said learning can't be fun?