Here's Looking at Crew, Kid
Volunteering on a stewardship crew is a fun way to engage with the Arboretum, make new friends, and strengthen existing relationships.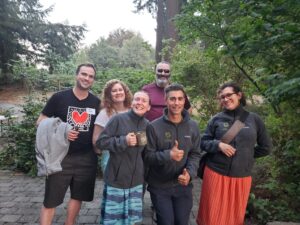 Such is the case for Saturday Crew member Brittany Hassell who learned about stewardship crews at Hoyt Arboretum on Facebook. "It sounded like exactly what I needed! I had been wanting to do some sort of volunteer work outside in nature with like-minded folks and this fit the bill perfectly," she said when recounting how she got involved at the Arboretum.
Here, friends from Saturday Crew sport their new Hoyt Arboretum fleeces at the 2022 Volunteer Appreciation Picnic. Brittany is shown in the front left.
Outdoor Adventures
Originally from  southeast Alaska, Brittany is an outdoor adventurer at heart. She spends as much time as possible backpacking, traveling through national parks in a van, camping in yurts, fishing, and berry picking. Here in Portland, she owns a house and pet sitting business with a lot of clients in our neck of the woods (no pun intended). When caring for kitties on the west side, she soothes her adventurers spirit with lots of walks and exploring parks.
Acts of Service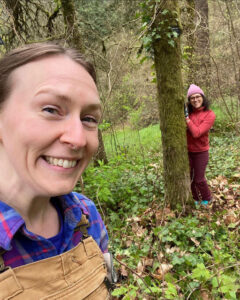 Brittany shows her love of the Arboretum through acts of service. Digging ivy and pulling horsetails in good company, she says "I really enjoy the people and the type of work fits great with my personality. It's nice to usually be able to work with other folks as a group or work a bit more solo."
An amazing advocate for stewarding our trees and trails, Brittany also recruited her best friend Amy for Saturday Crew. Here, the pair proudly show off their work on an ivy-cutting day.
English ivy is one of the Arboretum's most voracious foes, invading the understory, creeping up trees to the forest canopy, damaging bark, and blocking light. 
We could not keep up with ivy removal demands without help from volunteer stewardship crews. But that's not all they do! Crews dig trails, saw and clear downed branches and trees, plant, prune, water, and more!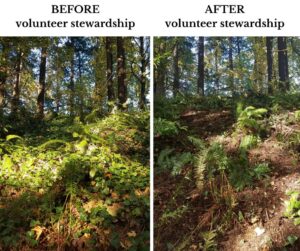 Many Hands Make Light Work
To anyone considering volunteering or supporting Hoyt Arboretum Friends, Brittany would say, "It's easy to lend a hand to the Arboretum that we love so much! Many hands make light work and the more folks that donate money and time the better off we all are!"
Hoyt Arboretum is a special place because of special people. Volunteers make every program possible from keeping trails cleared and visitor services to community science and teaching. We couldn't do it without help from people like Brittany. 
Join a Hoyt Arboretum stewardship crew