Local author and Hoyt Arboretum neighbor Phyllis Reynolds will be interviewing Hoyt Arboretum's staff over the coming weeks to introduce you to the people who make up Hoyt Arboretum's team. This week, we'd like to introduce you to Mareshah "MJ" Jackson, Communications & Development Coordinator at Hoyt Arboretum Friends since 2019.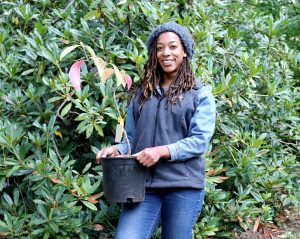 MJ has been Hoyt Arboretum's Communications & Development Coordinator for just over a year. She moved to Portland from Southern California last September, and before she she even knew a job was open she was totally taken by the park.
MJ's father was in the military when she was born on Okinawa. They moved to Memphis when she was two. They stayed there and in Virginia until her father retired. Then the family moved to southern California. MJ is a graduate of UCLA, where she majored in Communications. After college she worked for nonprofits involved in such things as gardening and urban planning. Becoming a graduate student in Communications at the University of Oregon (Portland campus) brought her to Portland. She needed a job and—presto—there was one open at the Arboretum. She got it. You all have seen her good work in the newsletter and the blog.
MJ especially loves the Bristlecone Pine Trail: "You're in trees and then you come across a little picnic area . . . There's a fairy tale quality to it . . . It's an insular experience, and I am captivated by it." She feels that Washington Park and especially Hoyt Arboretum can be a model for other cities lacking such places.
If she had a magic wand, what would she change about Hoyt? A lot more office/community event space and more capsule gardens here and there like the Winter Garden and bamboo forest.
Her first name – Mareshah – is from the Old Testament. It has multiple ways to be pronounced, but MJ works just fine.
About the Author
Phyllis is a Portland native who has written two books about Portland trees and a history of Hoyt Arboretum. She has a PhD in Clinical Psychology.