Local author and Hoyt Arboretum neighbor Phyllis Reynolds will be interviewing Hoyt Arboretum's staff over the coming weeks to introduce you to the people who make up Hoyt Arboretum's team. This week, we'd like to introduce you to Becky Schreiber, Deputy Director at Hoyt Arboretum Friends. She's been working with HAF since 2013.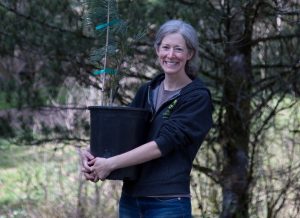 So—what's with this thing between Pennsylvania and Hoyt Arboretum? The executive director, Anna, went to college in PA; the program director, Emily, worked a year in PA; and the deputy director, Becky, was born, lived and went to school there, graduating from Penn State with a sociology major.
Becky's partner, Andrew, gets mentioned a lot here because he is the reason that Becky finally landed in Oregon. Both Becky and Andrew were born in a small town in central Pennsylvania. They finally left PA and moved to Vermont for a few years before spending a year in New Zealand, where Andrew learned brewing. Back to Harrisburg, PA for a couple of years. They hiked the Appalachian Trail and then spent three months in Europe visiting the major beer producing countries (Germany, the Czech Republic, Belgium, and England). Then back to PA, where they packed up their car, including Buddy, their beagle (now 14 years old), and took off for the West, ending up in Portland where Andrew got a job in a distillery.
After working in an architect's office for a year Becky applied for and got the arboretum position of communications and office manager in 2013. She has been at the arboretum ever since.
Last year, Becky did a solo hike of the Oregon section of Pacific Crest Trail in 14 (!) days. Clearly she likes to hike and backpack. She is also fond of hot springs, traveling around Oregon, and spending quality time with Buddy.
In response to my magic wand question, Becky said "Of course more space in the Visitor Center," and then she said she has always hoped that the two ADA trails (Bristlecone and Overlook) could be connected, making one long accessible trail.
About the Author
Phyllis is a Portland native who has written two books about Portland trees and a history of Hoyt Arboretum. She has a PhD in Clinical Psychology.