Magnolia
Magnolia
Hoyt Arboretum's diverse magnolia collection is a local favorite every year. The Magnoliaceae genus has existed for over 95 million years and consist of 210 species. These trees bloom amazing pink, purple, and red flowers around 8-12 inches in size. Hoyt Arboretum's Magnolia collection is part of the American Public Gardens Association's national magnolia collection.
Location: Magnolia Trail
---
Buttercup Winterhazel
Corylopsis pauciflora
Native to Japan and Taiwan, this tree gets its namesake from its spectacular blossoms. In late winter small, drooping, pale yellow flowers cover the tree in clusters of 3-5, while in April, light green leaves with a red-bronze hue reveal a uniquely beautiful spring-time view.
Location: Vietnam Veterans Memorial, on a path leading towards VVM parking lot
---
Lewisia tweedyi 'Tweedy Red'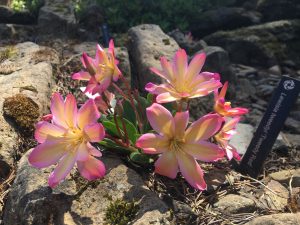 Lewisia tweedyi 'Tweedy Red'
A rare flowering plant is native to the Pacific Northwest and can be identified by its yellow spoon-shaped petals with bright, saturated pink edging. These hardy perennials grow in rocky areas and slopes and bloom in the spring.
Location: Alpine Rock Garden at Visitor Center
---
Cherry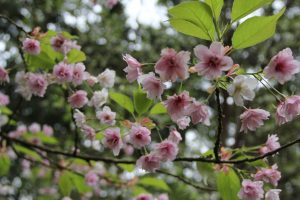 Prunus
Known for their delicate pink flowers that overwhelm the tree's branches, the Japanese cherry is a crowd-pleaser in the spring. Cherry blossom trees have been in the U.S. since 1910 as gifts received from Japan. They flourish in temperate climates and consist of over 200 varieties of trees displaying a variety of shapes and hues of pink.
Location: Wildwood Trail near east water tank